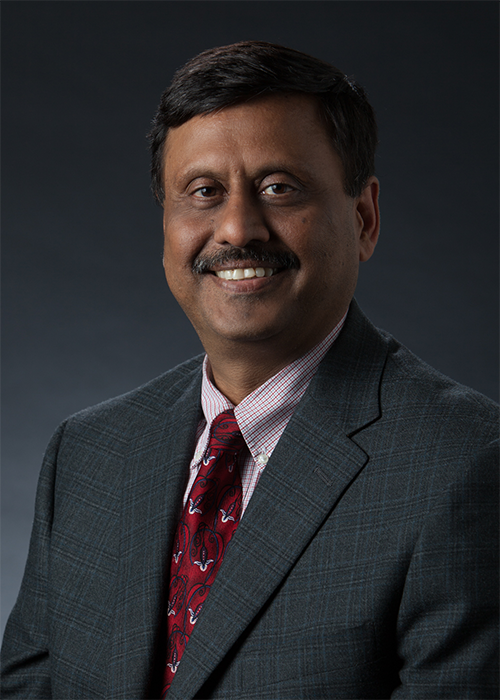 Dr. Pradeep Garg, executive director of the Center for Molecular Imaging and Therapy, is a molecular imaging scientist with a research focus on the development and evaluation of novel radiopharmaceuticals as diagnostic and therapeutic agents. One of Dr. Garg's major strengths is his ability to convert benchtop research to products that directly benefit patients, and has been instrumental in carrying out several translational research projects over the years. His research efforts are concentrated in oncology, cardiology and neuroimaging, and as a molecular imaging principal investigator, he has led multiple clinical trials that ranged from studying various imaging probes as possible tools to monitor therapeutic efficacy in patients to assessing the prognostic value of molecular imaging probes in patients with diseases such as prostate and esophageal cancer. He has also led clinical trials in developing imaging probes to aid in the early diagnosis of Alzheimer's disease.
Prior to joining the BRF, Dr. Garg was a professor of radiological sciences at Wake Forest University School of Medicine in Winston-Salem, North Carolina, where he also directed the PET Research Center, a university-wide resource providing education, service, and research capabilities and opportunities.
Prior to his tenure at Wake Forest, Dr. Garg was at Duke University Medical Center from 1987 to 1995 where he served as Assistant Research Professor and moved to the Department of Radiology at Yale University Medical Center in New Haven, Connecticut from 1995 to 2003 where he later became the director of the Yale University PET Center.
He served as board member and as president of the Radiopharmaceutical Science Council of the Society of Nuclear Medicine and Molecular Imaging. He is an active consultant on radiopharmaceuticals to the International Atomic Energy Agency and is a member and leader of several professional organizations, such as the Society of Nuclear Medicine and Molecular Imaging, Society of Molecular Imaging, Society of Radiopharmaceutical Sciences, Radiological Society of North America, American Chemical Society and the American Association for Cancer Research.
Dr. Garg completed his undergraduate education at Kurukshetra University, India, where he received his Bachelor and Masters of Science, followed by Lucknow University, India where he received his Doctor of Philosophy.
Stay Updated
Sign up to join the BRF news list to get BRF news and updates delivered to your inbox.