Center for Molecular Imaging and Therapy one of only a handful of similar centers in the nation
Twenty-seven years ago, BRF placed Shreveport on the map as a pioneer in molecular imaging by opening Louisiana's first positron emission tomography (PET) center. Today, BRF is again advancing Shreveport as a leader in molecular imaging with the opening of its new $19.5 million, 23,000 square foot Center for Molecular Imaging and Therapy (CMIT).
The CMIT project, which included construction of the facility and acquisition of equipment, was supported by BRF, the State of Louisiana, state and national organizations, community groups and private donors. CMIT is now one of only a handful of privately operated facilities in the nation with similar capabilities and suite of services. CMIT's three key services include:
Clinical services enabling patients to receive the highest quality molecular imaging and therapy care available;
Manufacturing services providing hospitals and research centers with the most up-to-date radiopharmaceuticals available; and
Basic and preclinical research capabilities and services including personnel and equipment to develop new radiopharmaceuticals and support collaborations with higher education institutions and pharmaceutical companies.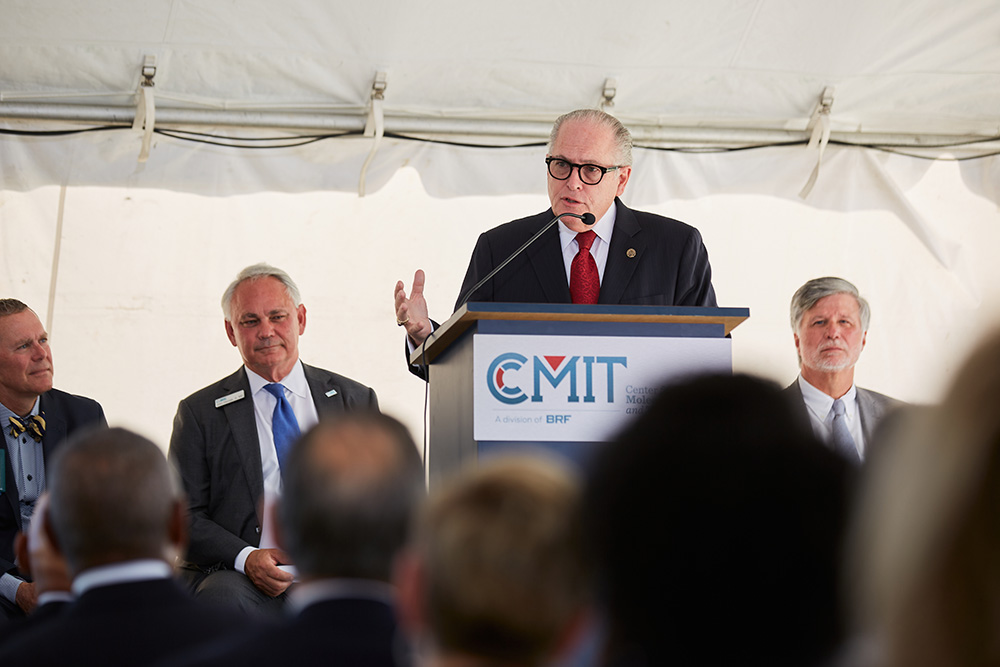 Speakers at the Center for Molecular Imaging and Therapy (CMIT) Grand Opening included (left to right) David Callecod, Interim CEO of Ochsner LSU Health System – North Louisiana; John F. George Jr., M.D., President and CEO of BRF; Don Pierson, Secretary of Louisiana Economic Development; and David Lewis, M.D., Interim Chancellor of LSU Health Shreveport. Not pictured are Terry Moore, BRF Chairman; Dr. Bernard Kimble, Former BRF Board Member; Pradeep Garg, Ph.D., Executive Director of CMIT; and Drew Mouton, Director of the City of Shreveport's Office of Economic Development.
The new CMIT, which consolidates three older CMIT facilities into one while providing upgraded and expanded equipment, will promote economic development with a projected workforce expansion of up to 25 highly trained and specialized employees within the next five years.
"The new Center for Molecular Imaging and Therapy will enhance Louisiana's position in the increasingly competitive life sciences sector by attracting contracts from out-of-state entities that drive revenue streams and create high-paying jobs," Louisiana Economic Development Secretary Don Pierson said. "I congratulate BRF on advancing molecular imaging care for Louisiana patients while promoting the kind of groundbreaking research and collaboration that the healthcare industry has come to expect from our state."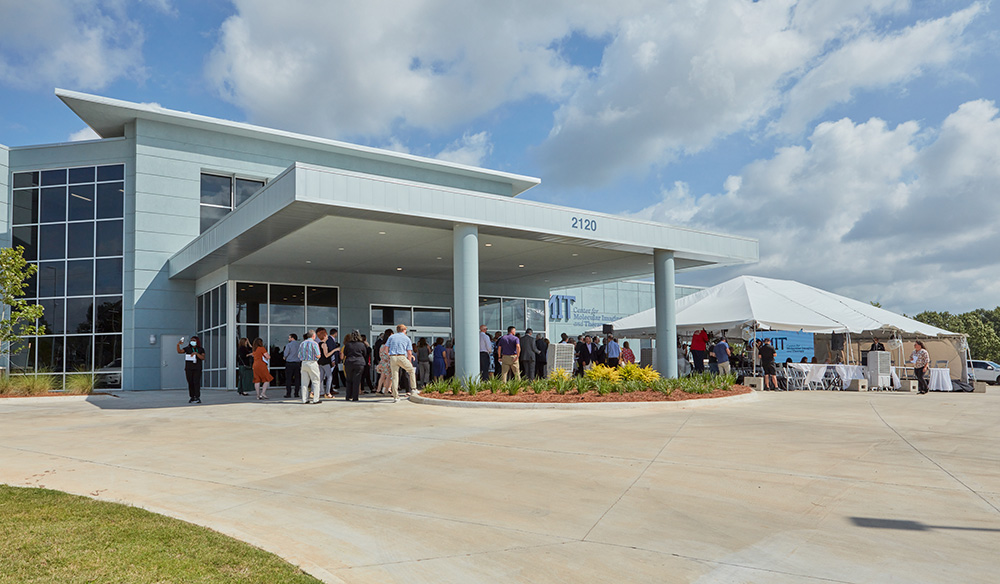 BRF formally opened the new Center for Molecular Imaging and Therapy (CMIT) at a grand opening and ribbon cutting ceremony on June 8, 2022.
PET imaging is used in the early diagnosis and therapeutic assessment of many diseases such as cancer, dementia and cardiac disease. PET imaging is also used to watch for recurrence of many cancers and is a critical imaging technology in modern healthcare.
How it works:
PET imaging produces digital images of the body by locating and measuring the distribution of specially designed radiopharmaceuticals which are administered to patients.
Radiopharmaceuticals are a class of drug that has a small amount of radioactivity that can be used as a diagnostic tool for non-invasive imaging or in some cases as a therapeutic agent.
CMIT produces radioisotopes via a specialized machine called a cyclotron. CMIT uses other highly specialized equipment to use the radioisotopes to manufacture radiopharmaceuticals.
After the radiopharmaceutical is administered to the patient, it travels to various organs and tissues, providing valuable information about the health of those organs and tissues to referring physicians. The radiopharmaceutical distribution is measured using a PET scanner to create images which will be interpreted by physicians. This interpretation can provide information such as initial diagnosis of disease, staging of disease and therapeutic effectiveness.
"With the new CMIT, Louisiana residents will have access to the most advanced molecular imaging and therapy care so they do not have to travel out of state," said BRF President and CEO Dr. John F. George Jr. "The scientists and researchers at this facility, and at collaborating educational institutions and pharmaceutical companies, will be able to perform life-saving research, produce life-saving radiopharmaceuticals and perform cutting-edge diagnostic and therapeutic imaging for area patients and for those in the state and beyond."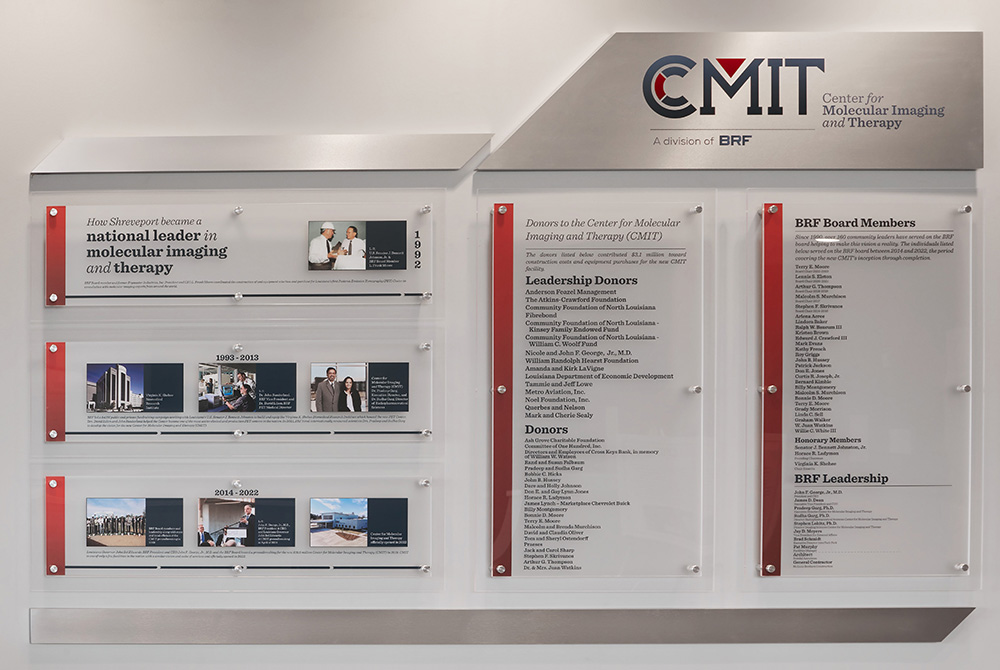 The Center for Molecular Imaging and Therapy (CMIT) project was supported by BRF, the State of Louisiana, state and national organizations, community groups and private donors.
Since 1995, CMIT has served tens of thousands of patients through diagnostic and therapeutic procedures utilizing radiopharmaceuticals, has manufactured and distributed more than 188,000 radiopharmaceutical doses, and has provided over $30 million in free care to indigent and uninsured patients. CMIT's new state-of-the-art cyclotron, radiochemistry laboratories and preclinical and clinical facilities will help expand molecular imaging and therapy care to patients.
"With new production equipment and expanded capabilities, CMIT will grow its catalog of novel radiopharmaceuticals to include applications in cardiovascular disease, prostate cancer, Alzheimer's disease and related dementias, hyperinsulinism, and pancreatic and other cancers," said CMIT Executive Director Dr. Pradeep Garg. "Targeted radiopharmaceuticals produced by CMIT will help diagnose diseases more precisely and accurately and will help physicians in choosing more effective treatment options and guide better outcomes for patients."
To learn more, visit thenewcmit.org.