Whenever a bomber takes flight, the world takes notice.
The U.S. Air Force Global Strike Command delivered status updates on the modernization of key Air Force assets as well as threat assessments from around the world in the inaugural Global Power Symposium hosted on LSU Shreveport's campus Thursday, March 23.
The AFGSC, which has its headquarters at Barksdale Air Force Base and is responsible for all of the U.S. bombers and intercontinental ballistic missile wings, discussed these topics in an unclassified setting to more than 100 defense-industry representatives and community leaders.
"It's vital to keep our country informed of the importance of supporting global and regional competition, deterrence assurance, partner building capacity and when necessary, combat operations," said Colonel Charles Drouillard, deputy commander of the Joint Global Strike Operations Center. "Our units are getting a lot of notoriety not just across the Air Force but across the entire Department of Defense."
Representatives from companies like Boeing, Radiance Technologies, Northrop-Grumman, Praeses, Ingalls Information Security, Fire Tech Services, Metro Aviation, Raytheon, Stephenson Stellar Corporation, and BRF attended the event.
"We need Barksdale Air Force Base as a hub in this region, and being able to develop and host successful conferences for the last few years now – it recognizes LSUS's place in this community as well," said Chancellor Larry Clark. "There's a room full of business leaders here that allows Air Force commanders to talk about some of their situations in a non-critical manner, which can then be interpreted and supported from this community to support both the overall mission of the Air Force but also the interests of this region."
"We provide a neutral stage for this exchange of information with the community, and Barksdale has the confidence in us to deliver this important event."
BRF President and CEO Dr. John F. George Jr. expressed his organization's goal to recruit and retain companies that build a defense ecosystem around Barksdale.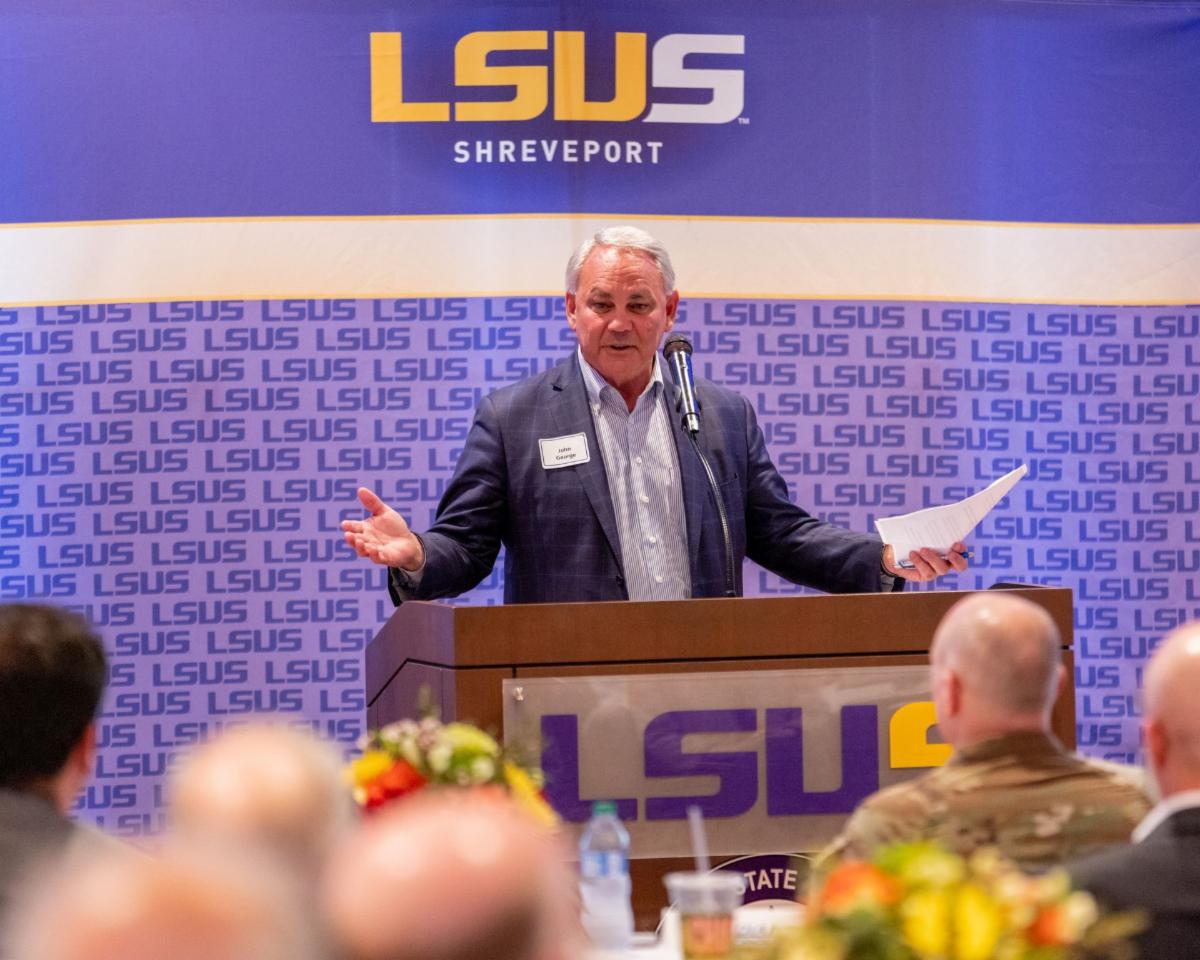 BRF President and CEO Dr. John F. George Jr. welcomes attendees on Thursday as part of the Global Power Symposium in University Ballroom at LSU Shreveport.
USING BOMBERS AS A DETERRENT
Bombers specifically have a unique ability to assure allies and deter adversaries.
From joint exercises with Japan and South Korea over the Korean Peninsula to integrating with Israeli and Ghanian aircraft, the Air Force is expanding the number of places from which they can launch attacks with the Bomber Task Force.
Drouillard said the U.S. believes adversaries like China and Russia perceive a "gap in deterrence capabilities," but Drouillard said the U.S. is in better position than ever to respond.
"Bombers help dial down rhetoric," Drouillard said. "We're getting access in places like India, Australia and Norway. More countries than ever are requesting bomber presence because of the effect it has."
"Bombers are becoming even more important in part because we're using them in different ways with the Bomber Task Force. We have the capability to get after what we need to get after and execute."
One significant exercise occurred in India when B-1 bombers landed in the country in 2021 for the first time in 75 years and again in February. India requested the presence in 2021 when border skirmishes with China repeatedly occurred in disputed territory in the Kashmir region.
Access in Guam and Vietnam open avenues to reach Chinese assets from multiple directions.
While the U.S. wants to protect its own interests, retired Air Force lieutenant general Robert Elder explained that the military goes to great lengths to avoid direct conflict.
"There's a very complex decision-making process that occurs," Elder said. "There's a spectrum of operations that includes cooperation, competition as well as armed conflict."
"You're trying to achieve your objectives without crossing over into an area where the other side wants to fight you. You want to improve your position to counter your opposition in an economic, legal, or political way, and use direct military conflict only if necessary."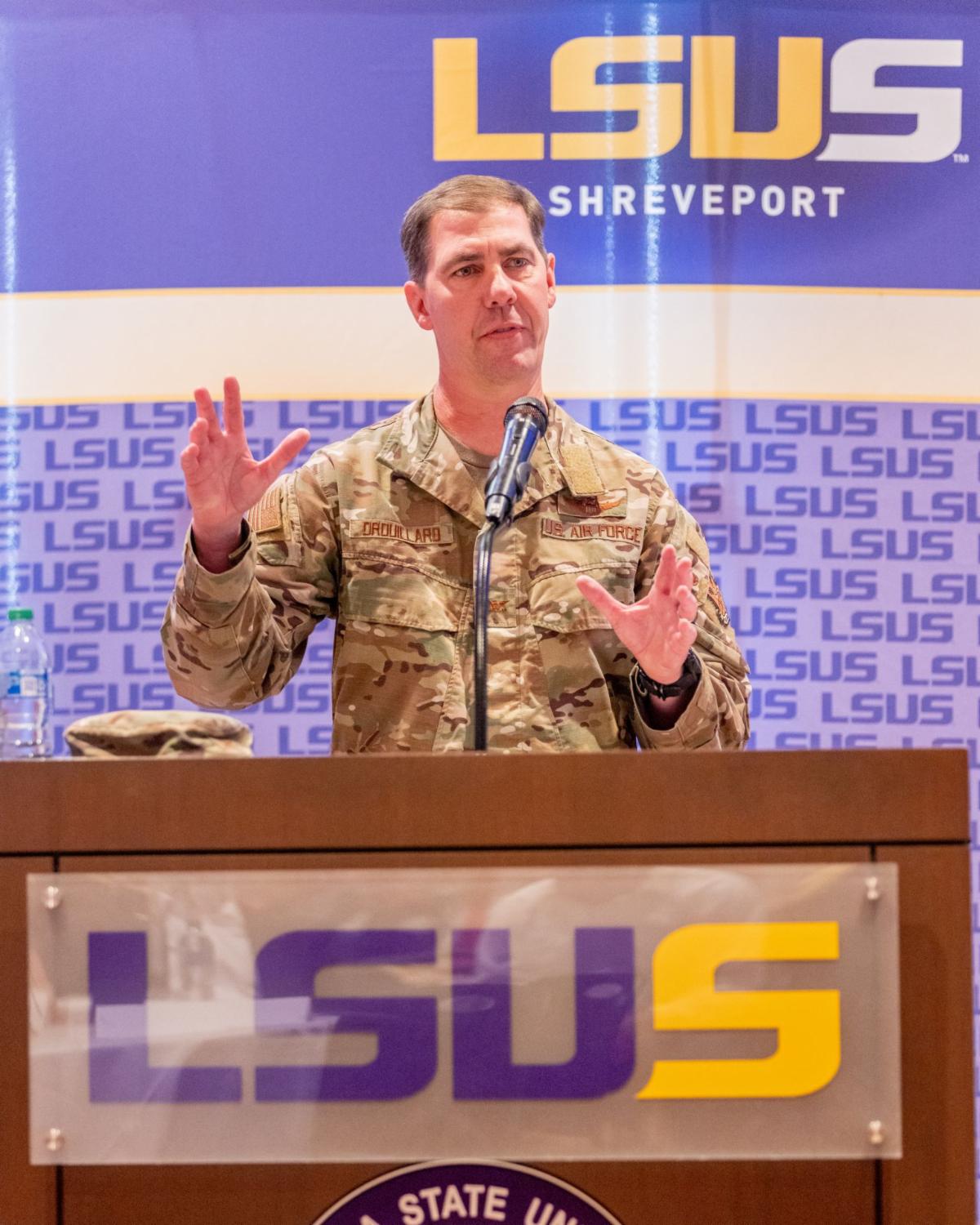 Colonel Charles Drouillard, deputy commander of the Joint Global Strike Operations Center, explains how the Air Force uses its Bomber Task Force as a deterrent Thursday as part of the Global Power Symposium in University Ballroom at LSU Shreveport.
CHINA CHALLENGING FOR SUPERPOWER STATUS
China has rapidly expanded its own access to ports around the globe, which the U.S. believes has military implications along with China's stated goal of economic and trade purposes.
China constructed its first overseas military base in the East African country of Djibouti near the convergence of the Red Sea and the Gulf of Aden, just miles away from the U.S. Navy base Camp Lemonnier.
But the country's greatest advances have come in the expansion of influence in Africa and South America along with its information, cyber and space operations.
"There is a more concerted effort to address the growing threat that is China, and it's driving a lot of our thought, strategy and investment," said keynote speaker Lieutenant General Mark Weatherington, the deputy commander of Global Strike Command. "The tight coupling in that nation of the business, industrial and defense complex with the government – there's really no gap."
"We watch that continuing development with great interest, and that's just one aspect of the (China) challenge."
One measure of China's expanding influence is the number of countries that have changed course on Taiwan's status as an independent nation.
For countries to sign on to China's "One Belt, One Road" initiative, an economic development and commercial plan to push trade throughout Asia, Africa, South America and Europe, these countries must switch their public stance on Taiwan's independence to China's preferred "One China" policy.
"There have been 151 countries that have joined China's initiative," said Master Sergeant Eric Braun, who works in the intelligence realm. "This is part of a vast majority of African and South American countries that now have China as their top trading partner, something that's happened over the last 20 years."
"Just 12 countries and Vatican City support Taiwan's independence."
Elder stressed the importance of contesting certain things the Chinese do, including building artificial islands in the South China Sea and claiming those waters as their own instead of their designated status as international waters.
"It ultimately comes down to the idea of democracy and free markets – the Western Way versus the Autocratic Way that China and Russia favor," Elder said. "China would like to alter the existing international system and advance their national interests."
"We look for opportunities to cooperate with China and Russia to try to lower the risk of some kind of combat situation. But you have to assure your friends' protection while deterring your adversaries."
One facet of China's economic policy is conducted through communications and technology giant Huawei, which has installed wireless mobile network infrastructure in countries around the world.
A 2017 Chinese law compels Chinese businesses, which Elder says are tentacles of the ruling Chinese Communist Party, to turn over data and intelligence of interest to the Chinese government.
Countries are beginning to turn away from Huawei's infrastructure because of the possibility that China could use this infrastructure to collect intelligence.
"More than 60 countries were using Huawei to build that infrastructure, but a few are actively pulling back like India, France, Italy, Singapore and Portugal," Braun said. "They are choosing competitors like Nokia and Ericsson."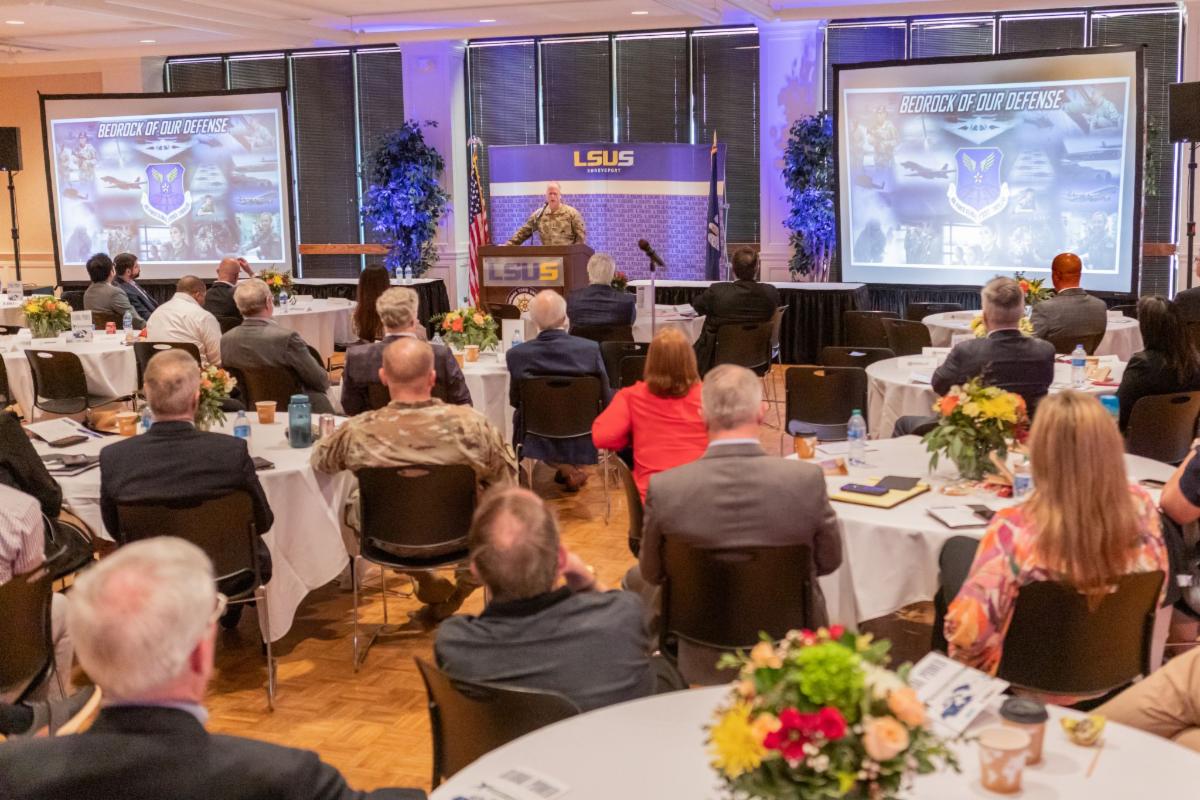 Keynote speaker Lieutenant General Mark Weatherington, the deputy commander of Global Strike Command, discusses the continued importance of B-52 bombers to the defense of the United States on Thursday as part of the Global Power Symposium in University Ballroom at LSU Shreveport.
VITAL UPDATES TO BOMBERS, ICBM SYSTEM
The Global Strike Command houses two prongs of the U.S. nuclear triad, and both bombers and intercontinental ballistic missile systems are getting major overhauls.
The ICBM system Minuteman III, which has been in service since the 1970s, will be gradually phased out with the Sentinel ICBM system.
The upgrade of this land-based missile system is the largest public works project in the last 60 years with nuclear deterrence its objective.
"China is on a breakout campaign to get parody with the U.S. when it comes to strategic deterrence, and that's a new world for us," Weatherington said. "This is the only ICBM system in the free world."
"This is central to our nuclear strategy in that it's a large number of geographically dispersed and hardened targets that are incredibly responsive. They are ready to respond and ready to deter. The Sentinel program is performing well and will deliver the right capabilities for the nation."
Weatherington emphasized the effectiveness and readiness of the Minuteman III system, but the Sentinel program will upgrade and enhance operational abilities as well as simplify maintenance.
Weatherington added that implementation of the Sentinel program is about five years away with a phasing in period of 10-15 years.
The bomber task force is also receiving much-needed upgrades, including the development and implementation of the B-21 Raider, a long-range stealth bomber.
While the B-21 isn't in action yet, the B-52 Stratofortress, many of which operate out of Barksdale, will receive massive upgrades to perform until 2050.
"The B-21 will be central to the future fight in the Pacific, and it's a modernization to our bomber forces that was sorely needed," Weatherington said. "The B-52J model is a collection of upgrades to that venerable old platform, and that will continue to be a bedrock for us."
"There's a lot of life left for a platform that started flying in the early 1960s."
Article by Matt Vines. Photos by Jeremy Hernandez.