The 24th Annual Nuclear Triad Symposium was held on the LSU Shreveport campus July 20th. Presented by the Hudson Institute, BRF and LSU Shreveport, this yearly gathering aims to address the United States' challenges in pursuing the currently adopted modernization roadmap and related arms control and proliferation issues. The conference has a significant focus on the present and future strategic capabilities of Air Force Global Strike Command (AFGSC) located at nearby Barksdale Air Force Base. 
According to (Ret.) Lt. Gen. "Bob" Elder and Hudson Institute Senior Fellow Peter Huessy, the purpose of the Nuclear Triad Symposium is to bring military officials and industry partners together. The two explained that when this gathering happens, plans and initiatives are created that rise to the current and future challenges of nuclear preparation.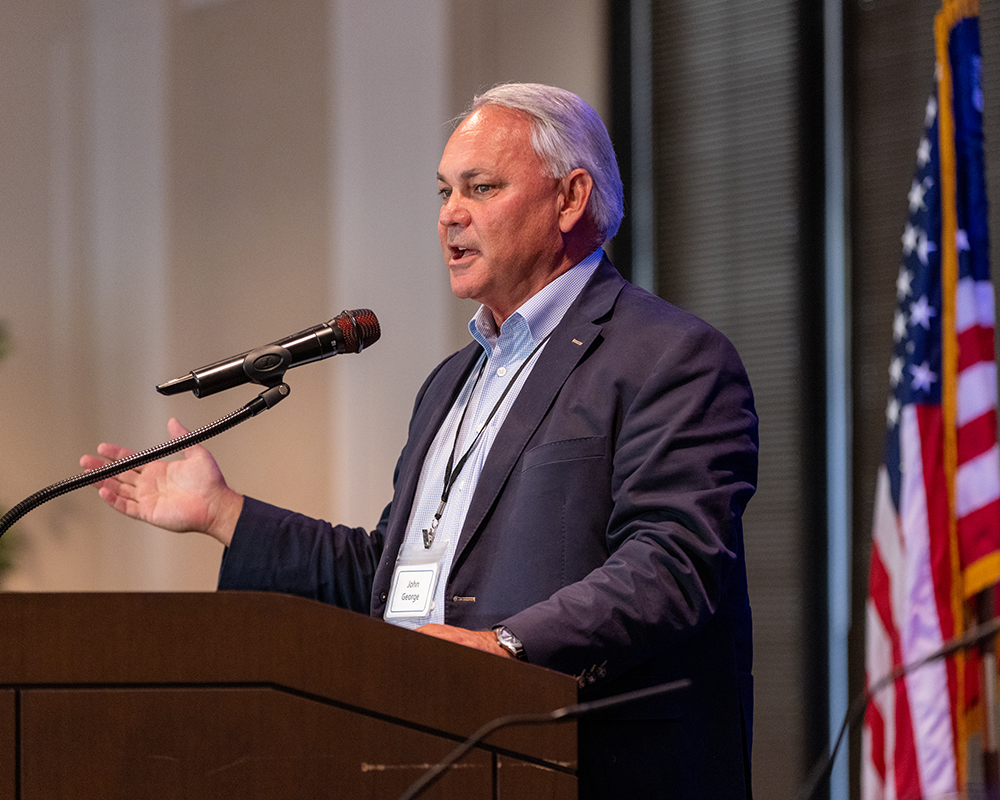 BRF President and CEO John F. George Jr., M.D., introduces the new Chancellor of LSUS, Dr. Robert T. Smith, at the Nuclear Triad Symposium
Speakers included high-ranking Air Force officials, as well as private and education industry partners. The unclassified briefings highlighted the need to modernize the U.S.'s nuclear warhead capabilities. Military experts spoke on the known capabilities of Russian and Chinese forces, the two largest nuclear threats to the U.S. Public policy experts echoed the sentiments, highlighting international unrest and strategic changes the two countries have already implemented in obvious efforts to outpace the United States.
Morning speakers highlighted the U.S.'s need for faster military modernization, citing verified exponential growth by both China and Russia in aircraft and weaponry production. U.S. infrastructure, while still ahead of its near-peer adversaries, is losing its comparative advantage with respect to its counterparts. China, as explained at the symposium, can build new aircraft at a much faster pace than the U.S. due to differing government structures and resources. Major General Mark Pye, Director of Global Power Programs, Office of the Assistant Secretary of the Air Force for Acquisition, Technology and Logistics, emphasized the need to build the next generation workforce to ensure the United States is able to meet future modernization demands.
"The opportunity for professional movement must increase across the military, industry and higher education. We've got to connect with the younger generation, help connect them to this national security profession, and empower them. We need their perspective to move forward."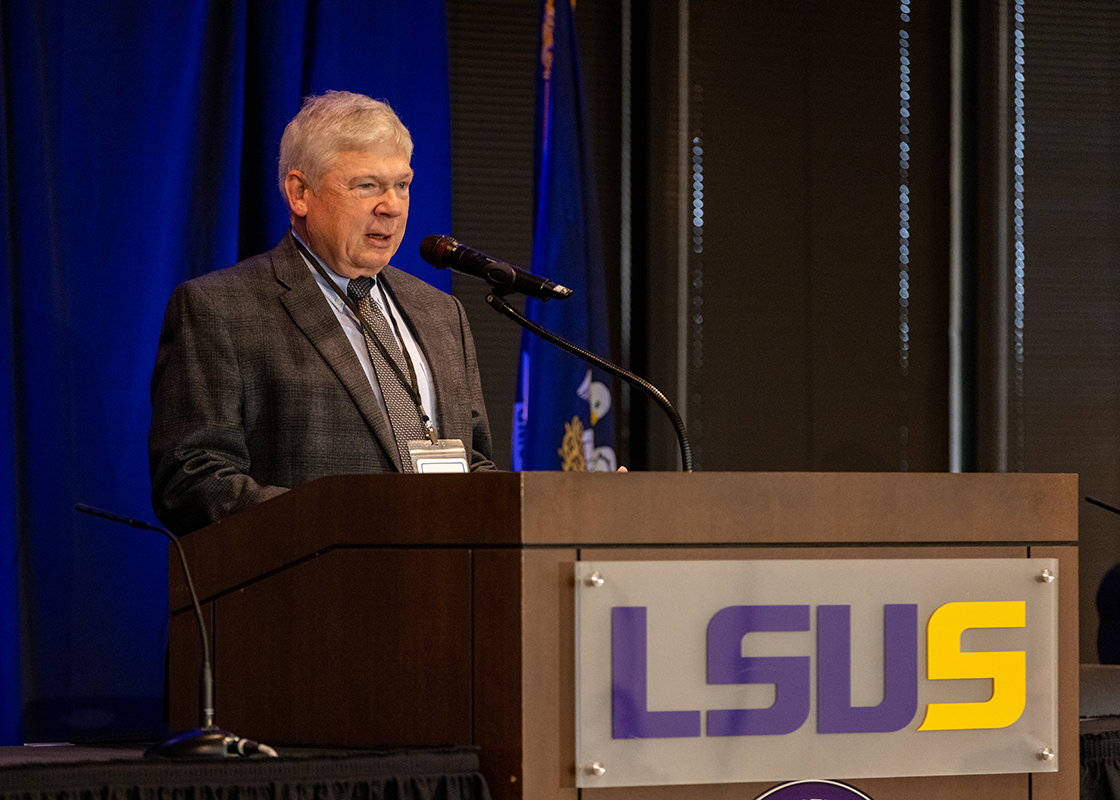 (Ret.) Lt. Gen. Bob Elder addresses the crowd at the 24th Annual Nuclear Triad Symposium.
A panel of defense contractors reiterated General Pye's comments, highlighting the need for a qualified workforce to meet the country's modernization directives. Colonel Bridget McNamara and Major General Michael Lutton of the 8th and 20th Air Force, respectively, emphasized their need for additional personnel while discussing their current inventory assets and needs. Vice Admiral Johnny Wolfe, Jr., Director for Strategic Systems Programs at the Naval Support Activity Crane, referenced the partnerships their installations have developed with local higher education institutions to troubleshoot workforce and asset development issues.
To round out the day, keynote speaker Major General Kenneth Eaves reminded the crowd how important the AFGSC mission is to ensure the Russian and Chinese threats are neutralized, hammering home the points other speakers brought forth throughout the day. He also provided an update on the spectrum of missions that AFGSC forces perform every day, highlighting the intercontinental ballistic missile (ICBM) force's unbroken 24/7, 365 days a year alert status, and the heavy demand from Combatant Commanders across the globe for bombers to conduct Bomber Task Force missions to assure friends, illustrate U.S. commitment to deter aggression, and demonstrate the unique ability of the U.S. bomber force to rapidly reposition to any part of the globe to support U.S. national objectives. He reiterated that the quality and professionalism of U.S. servicemen and women are the primary reason that the U.S. possesses such a significant competitive advantage relative to its adversaries.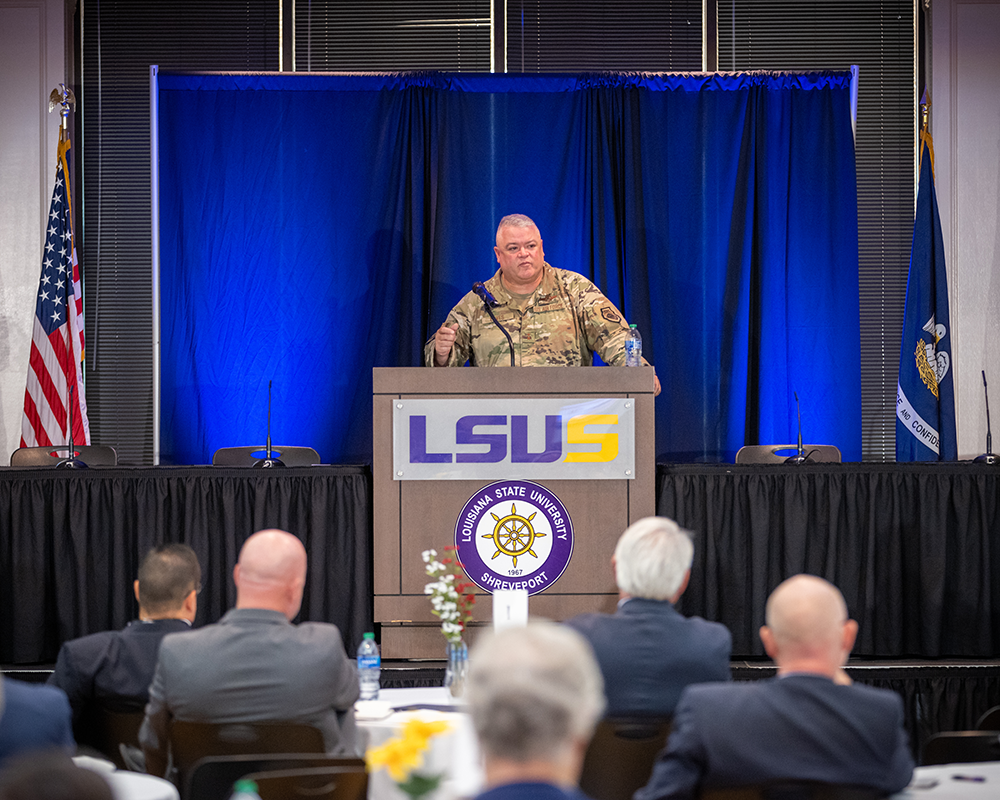 Keynote speaker Major Gen. Kenneth Eaves provided an update on the spectrum of missions led by Air Force Global Strike Command. 
About BRF
BRF's defense mission is to build a regional defense industry cluster in Northwest Louisiana to promote innovation and solve Air Force challenges while enhancing the economic vitality of the region and state.
BRF, headquartered in Shreveport, is an innovation hub and economic development organization establishing North Louisiana as a preferred destination for high-growth initiatives. Diversifying the region's economy is its mission. It fulfills this mission through initiatives that start new businesses, recruit new businesses and retain current businesses in the region, and through supporting the development of a science and technology-based workforce.
To see the full agenda and list of symposium speakers, visit the LSUS Strategy Alternatives Consortium webpage.
___
About Hudson Institute
Founded in 1961 by strategist Herman Kahn, Hudson Institute challenges conventional thinking and helps manage strategic transitions through interdisciplinary studies in defense, international relations, economics, energy, technology, culture, and law. Hudson seeks to guide policymakers and global leaders in government and business through a robust program of publications, conferences, policy briefings, and recommendations.
About LSU Shreveport
Founded in 1967, Louisiana State University Shreveport offers a wide array of nationally accredited undergraduate and graduate degree programs, including a doctoral degree. The university's mission is to educate a diverse population of graduate and undergraduate students; engage in regional and global thought leadership through community collaboration and service; and innovate to enhance the application of knowledge and intellectual discovery through faculty and student research and creative endeavors.
Article by Erin Smith, LSUS Director of Media and Public Relations