The Red River Regional Chapter of the National Defense Industrial Association (NDIA) hosted a luncheon Oct. 18 at Centenary College in Shreveport with honored guest and speaker retired Lt. Gen. James Kowalski. The chapter presented Kowalski with the Lt. General Edgar S. Harris, Jr. Award. This is the first awarding of the Harris Award, which will be presented annually to local community leaders in the defense industry and academia that have significantly contributed to the development and sustainability of Barksdale Air Force Base (BAFB) and the defense industry in Northwest Louisiana.
Kowalski, who retired from the Air Force in 2015 after serving as the Commander of Air Force Global Strike Command (AFGSC) and Deputy Commander of US Strategic Command, spoke about his experiences with government-industry relationships from two perspectives: as a senior military officer and as a defense contractor executive with Northrop Grumman, where he was Vice President and Corporate Lead Executive for Strategic Programs.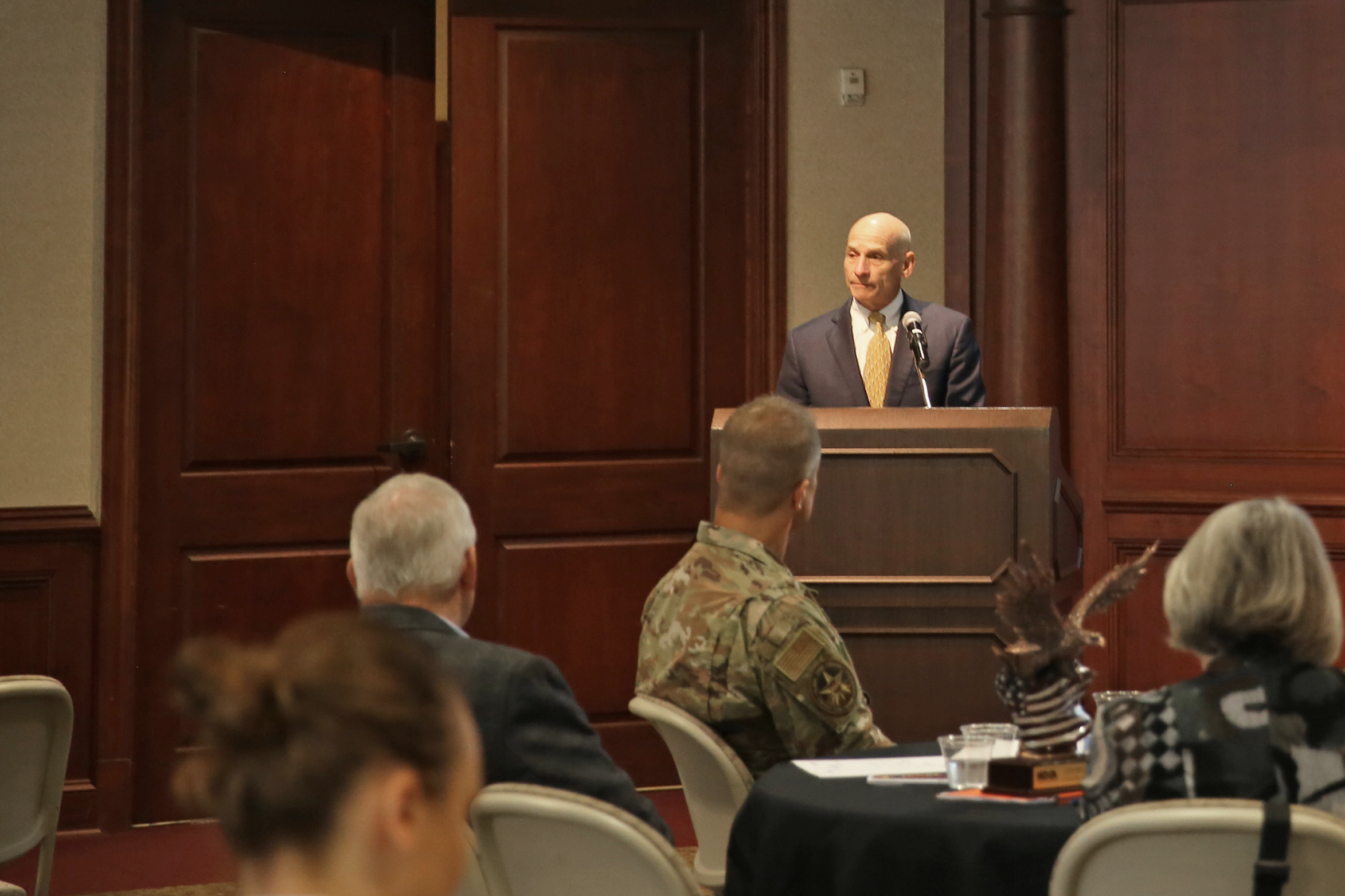 Retired Lt. Gen. Kowalski speaking to NDIA luncheon attendees.
Kowalski highlighted the importance of AFGSC and BAFB in the current geopolitical climate, saying that Northwest Louisiana is "at the nexus between the rise of aggressive nuclear-armed adversaries and the Air Force major command responsible for two-thirds of the nuclear force needed to deter them."
"Unlike the Cold War, when relations between China and Russia were often frosty, Putin and Xi are starring in their own buddy movie, one where their partnership has 'no limits,'" he said.
Kowalski spoke of adversaries' use of hybrid warfare, conventional military power, cyber, disinformation and economic coercion to destabilize democracies, sow chaos and weaken the Free World.
"The structure Putin and Xi are determined to shatter has brought about the longest period of peace mankind has ever known," he said, including global prosperity, the decline of poverty, education and growth as results of peacetime.
"Standing against Putin and Xi are the alliances and institutions of the West," he said, "including BAFB, AFGSC and the defense industry."
AFGSC has previously and will again urgently work with industry to field the forces needed to sustain strategic deterrence against the alliance of two dictators and their combined forces, Kowalski added.
Kowalski closed with his observations as a defense industry contractor, citing the patriotism and commitment of the civilian workforce, the need for advocacy in rebuilding strategic forces and finally, the importance of community leaders, from supporting airmen at the base to helping political leaders understand and focus on defense issues.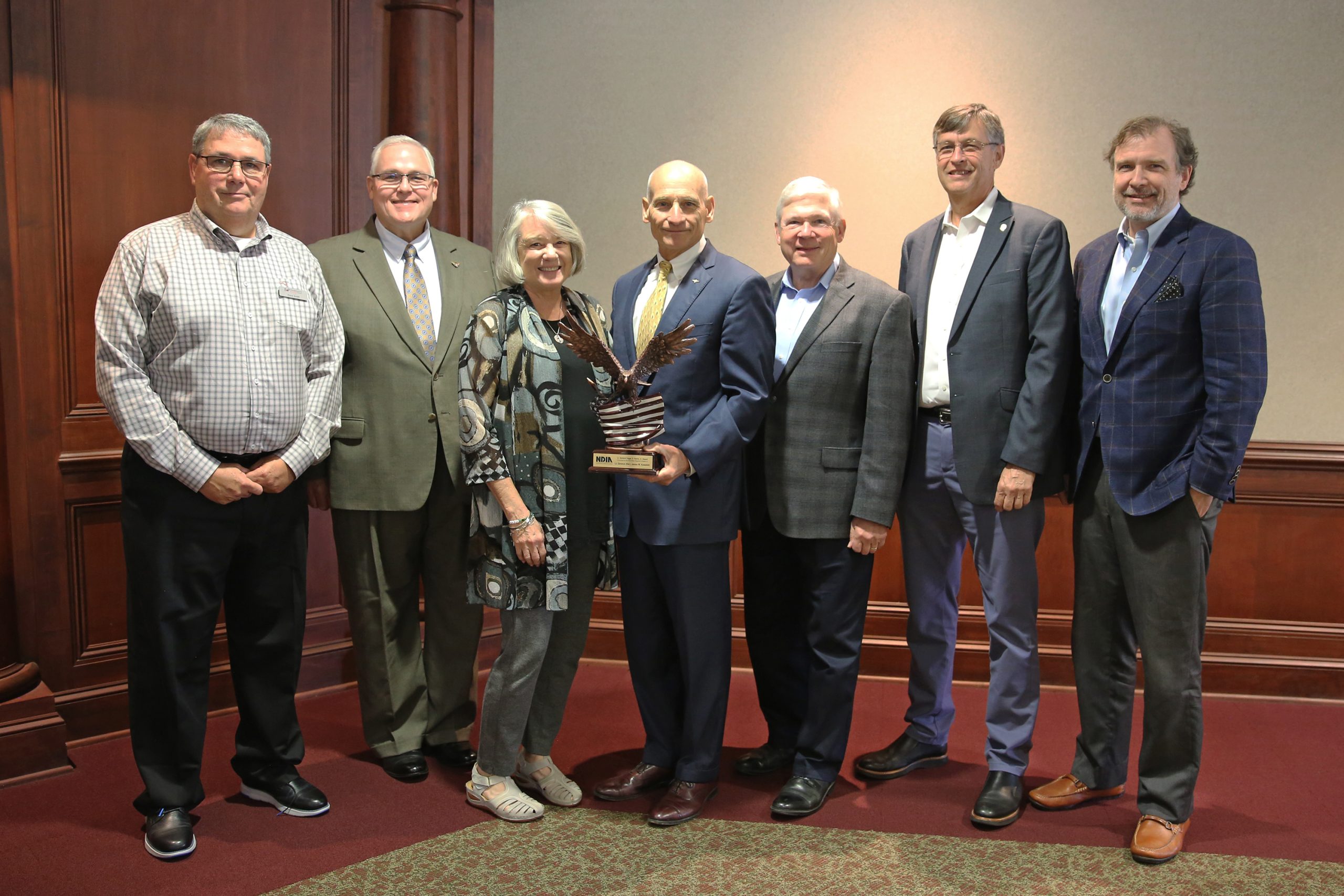 Pictured here from left to right: Dave Smith, Doug Rogers, Julie Kowalski, retired Lt. Gen. James Kowalski, retired Lt. Gen. Bob Elder, Brian Burgess and Ross Barrett.
The NDIA is an educational nonprofit that engages thoughtful and innovative leaders to promote the best policies, practices, products, and technology for warfighters and others who ensure the safety and security of our nation. Red River's chapter leadership includes chapter President Brian Burgess, Vice President Dave Smith, also BRF's Entrepreneurial Accelerator Program Executive Director, Treasurer Ross Barrett and Secretary Doug Rogers.
BRF, an economic development organization serving Northwest Louisiana, is building a regional defense industry cluster in Northwest Louisiana to promote innovation and solve Air Force challenges while enhancing the economic vitality of the region and state.