Three students of the Science and Medicine Academic Research Training (SMART) program were the top three winners of the 2018 Louisiana Region I Science and Engineering Fair, and one SMART student placed first overall at state in the 2018 Louisiana Science and Engineering Fair held in March.
Matthew Blaise Willis, a senior at Caddo Magnet High School, won first overall for his research, which examined the behavior of Mycobacteria when exposed to simulated microgravity. The objective of the project was to identify the gene responsible for the increased infectious nature of theses pathogens when living in a spacecraft environment. He thanks his mentor, Dr. Lynn Harrison, of the Department of Molecular and Cellular Physiology, and Wioleta Luszczek, Angela Stark, and Adam Xiao of LSU Health Shreveport.
Caddo Magnet Seniors and SMART students Christopher Ferrier, Sunjay Letchuman and Lilly Kamberov placed first, second and third, respectively, at the regional science fair.
All four SMART students will compete in the 2018 International Science and Engineering Fair in Pittsburgh, Pa. May 13-18.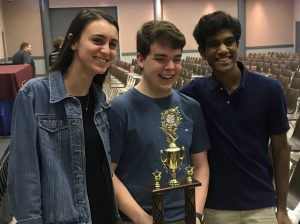 Ferrier investigated how the sizes of relevant regions of the brain affect cognitive performance in Parkinson's disease. This project pursues a viable way to detect and track the severity of Parkinson's disease with magnetic resonance imaging (MRI). He thanks his mentor, Dr. Elizabeth Disbrow, of the Department of Neurology, Pharmacology, and Toxicology, and Dr. Christina Ledbetter of LSU Health Shreveport.
Letchuman investigated the failure of vein grafts during Coronary Artery Bypass Grafting (CABG), the most common open-heart surgery performed in the United States. During the surgery, the vein is stressed in many ways, and his project explores how the stress the vein experiences may lead to vein graft failure. He thanks his mentor, Dr. Christopher Patillo, of the Department of Molecular and Cellular Physiology, Dr. Bandana Shrestha, Dr. Vyas Rao and Priya Prasai of LSU Health Shreveport.
Kamberov investigated the means by which heart disease affects women more adversely. In particular, she looks at the molecular pathway that a particular serotonin receptor mediates the sex-specific effects in heart attacks. She thanks her mentor, Dr. Diana Cruz, of the Department of Molecular and Cellular Physiology, and Natalie Burford of LSU Health Shreveport.
SMART provides a yearlong research experience with investigators at LSU Health Shreveport for 10-12 academically advanced high school seniors who have a career interest in medicine, biomedical research or biomedical engineering.
In the SMART program, students receive mentorship from LSU Health Shreveport Ph.D. researchers, working in researchers' laboratories 40 hours per week for seven weeks in the summer and at least 10 hours per week during the school year.
Completing the course earns students two high school science elective credits and the experience of hours of training in top notch local research facilities.
SMART is a partnership among BRF, LSU Health Shreveport, and the Caddo, Bossier and DeSoto parish school boards, and is in its 22ndyear, having graduated more than 200 students.