BRF is building our region's future, one initiative at a time
Stay updated on all of BRF's news. Subscribe today to get BRF news direct to your inbox.
MISSION
Diversify and grow our region's economy.
VISION
Operate as a catalyst to expand and develop research, entrepreneurship and high-growth businesses in our region.
VALUES
Innovation. Collaboration. Problem Solving. Bold Action.
Latest Videos
A global, multimodal hub, Northwest Louisiana is in prime position to move goods across the country and around the world. This video is the first in a series showcasing the Shreveport-Bossier area's assets, infrastructure and quality of life.
Learn more about BRF and its initiatives at our YouTube channel.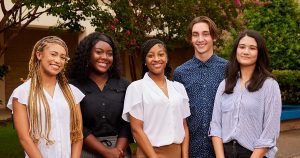 Participants in the 2023 BioStart Internship Program include, from left to right, Brionna Strickland, Avieona Eley, Yoshua Washington, Brantley Welch...