BRF is building our region's future, one initiative at a time
Stay updated on all of BRF's news. Subscribe today to get BRF news direct to your inbox.
MISSION
Diversify and grow our region's economy.
VISION
Operate as a catalyst to expand and develop research, entrepreneurship and high-growth businesses in our region.
VALUES
Innovation. Collaboration. Problem Solving. Bold Action.
Latest Videos
Geopolitical Strategist Peter Zeihan speaks in Shreveport at BRF's 2023 Annual Event, offering insight on Northwest Louisiana's strengths in the economies of the future.
Learn more about BRF and its initiatives at our YouTube channel.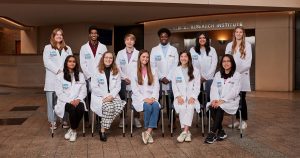 SMART program prepares students for careers in medicine, biomedical fields Enrollment for the 2023-2024 Bobbie Cates Hicks Science and Medicine...