BRF Bell Street Brownfields Cleanup Project
Click the links below to view BRF's EPA Brownfields Cleanup Grant application for property located on Bell Street in BRF's Intertech Park in Shreveport, LA, and the accompanying Analysis of Brownfields Cleanup Alternatives.
Nov. 7, 5-6 p.m.
EPA Brownfields Grant Information Public Meeting Zoom Click the Zoom link below to join. 
Submit comments and questions to BRF via the contact form below.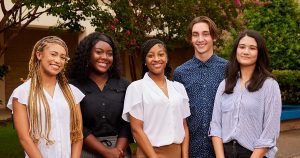 Participants in the 2023 BioStart Internship Program include, from left to right, Brionna Strickland, Avieona Eley, Yoshua Washington, Brantley Welch...
Stay Updated
Sign up to join the BRF news list to get BRF news and updates delivered to your inbox.